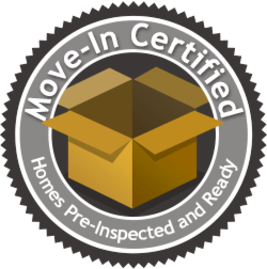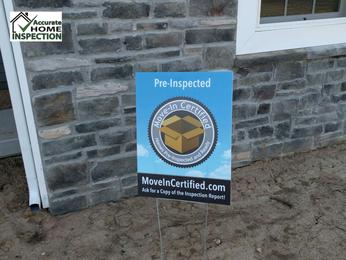 Are you selling your home? Let Accurate Home Inspection inspect it before you even list it. A Move-In Certified home has been pre-inspected, which means that the seller can confirm that there are no major systems in need of immediate repair or replacement, and no known safety hazards. A Move-In Certified Seller Inspection informs you of any defects or problems with your home so that you can address them before prospective buyers discover them. You can then take the time you need to obtain reasonable repair estimates. Show prospective buyers that you are dealing in good faith. Avoid 11th-hour negotiations and delays, and justify your full asking price by having your home pre-inspected now.
Advantages For Sellers:
Since the home has already been inspected by a Certified Professional Inspector this may prompt the buyer to waive thier own inspection contingency.  And even if he doesn't, a Seller Inspection means you won't be in for any major surprises.
You can schedule your inspection at your own convenience, rather than accommodate a buyer and their inspector.
You can assist your inspector during the inspection, which is something not normally done during a buyer's inspection.
A Move-In Certified Seller Inspection may alert you to any immediate concerns, such a broken pressure-relief valve or an active termite infestation.
Allows you to take the time to shop for competitively priced contractors to make repairs, rather than making rushed decisions to get things fixed in a hurry.
Lets you attach repair estimates or paid invoices to the inspection report.
Removes over-inflated buyer-procured repair estimates from the negotiating table.
Move-In Certified yard signs will attract potential buyers touring homes in your neighborhood.
A Move-In Certified Seller Inspection is the ultimate gesture in forthrightness on your part.
Advantages for Buyers:
The inspection has already been completed by the time you tour the home.
The inspection has already been paid for by the seller, giving you the option of waiving your inspection contingency, which streamlines the sales process.
A Move-In Certified Seller Inspection can help prevent 11th-hour re-negotiations and delays.
A Move-In Certified Seller Inspection can reveal problems ahead of time.
Gives the seller time to make repairs.
Permits the seller to attach repair estimates or paid invoices to the inspection report.
Gives you the information you need to make an informed home-buying decision.
Search for a home that has been pre-inspected.
Advantages for Real Estate Agents:
You can recommend an InterNACHI Certified Professional Inspector to inspect the home before the buyer's inspector is hired.
Your client (the seller) can schedule the inspection at his convenience, with little effort on your part.
Your client can assist the inspector during the inspection, something that's not typically done during a buyer's inspection.  This can streamline the inspection process and give your client confidence in the condition of the home you're helping them sell.
You and your client will be alerted to any immediate safety issues discovered, before other agents and potential buyers tour the home.
A seller inspection relieves you of having to hurriedly procure repair estimates and schedule repairs for your client.
Repairs can be made ahead of time and will help the home show better.
Your client will have the opportunity to correct any misstatements in the inspection report before it's generated and distributed to prospective buyers.
The inspection report will help your client see their home through the eyes of an unbiased third party, making them more realistic about their asking price.
A Move-In Certified yard sign, provided by the InterNACHI inspector, will attract potential buyers looking for a home in the neighborhood.
The inspection report can be hosted on www.FetchReport.com, which will entice potential buyers to tour other Move-In Certified homes.
The Move-In Certified inspection report can be used as a marketing tool that goes beyond the seller's disclosure.  This kind of forthrightness is a great way to help sell the home and engage in a low-stress transaction.
The inspection report can help relieve a prospective buyer's unfounded suspicions and concerns before they walk away from an otherwise great deal.
A Move-In Certified seller inspection report helps eliminate "buyer's remorse" that can sometimes occur after the buyer's inspection.  With a pre-listing inspection, the facts are up front and there are seldom any new issues or surprises by closing.
A seller inspection helps prevent protracted negotiations and 11th-hour re-negotiations.
The seller inspection and report may persuade a buyer to waive his own inspection contingency.
The deal is less likely to fall apart the way they often do when a buyer's inspections reveals unexpected problems at the last minute.
The inspection report provides full-disclosure protection from future legal claims.