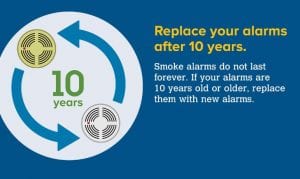 Smoke detectors are recommended to be replaced after 10 years. Modern smoke detectors are white and usually will turn yellow when it is time to have them replaced. To know for sure, you should check the manufactured date on the back of the smoke detectors and replace any that are over or near 10 years.
This might sound like a ploy to get you to shell out for a new smoke dectors every decade, but you're better off doing it for several reasons:
Peace of mind: You'll know that your home has a working system to alert you in case of fire. You should make sure there's alarms on each level of your home as well as one within earshot of your bed (many fires start when you're asleep). Ideally, they're interlinked so that when one goes off, they all go off so you get as early a warning as possible.
Limiting effects to your insurance: If you have a homeowner's or rental insurance policy, you likely have a section on protections your home must have to qualify for the policy. This often includes having working, non-expired smoke detectors. Even if your policy doesn't have a section on this, alerting your agent that you have non-expired alarms can sometimes lower your rate or work in your favor during insurance investigations after a fire.
Following other regulations: If you're a landlord, you're likely required to make sure your rental properties all have working, non-expired smoke detectors.