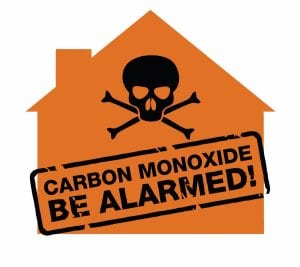 Carbon monoxide (CO) poisoning is a serious public health concern. Over 10,000 people are poisoned by carbon monoxide needing medical treatment each year; over 500 people in the U.S. die annually from carbon monoxide poisoning.
As of January 2017, 32 states have enacted statutes regarding (CO) detectors, and another 11 have regulations. Unfortunately, Indiana is not one of those states. If your home has any gas appliances or an attached garage, you should install CO detectors.
CARBON MONOXIDE DETECTORS PLACEMENT: DO'S
In order to maximize the protection of your home from excess levels of carbon monoxide, place your detectors in all of the following places:
-On every level of your home. In order to ensure that your home has maximum protection, it's important to have a CO detector on every floor.
-At least five feet from the ground. Carbon monoxide detectors can get the best reading of your home's air when they are placed above five feet from the ground.
-Near every sleeping area. If your CO levels get too high during the nighttime, it's important that detectors can be heard by everyone sleeping in your home. Place your detectors close enough to every sleeping area so that they can awaken everyone in the case of an emergency.
-Near attached garages. Cars produce carbon monoxide any time they are running. If you have an attached garage, those gasses can quickly spread to the rest of your house. A CO detector near your attached garage will warn you if that becomes a problem.
-Where the manufacturer recommends. Every model of carbon monoxide detector is tested according to manufacturer specifications. It's important to take those specifications into account when you're deciding where to place your detectors.
CARBON MONOXIDE DETECTORS PLACEMENT: DON'TS
The following locations can either create a false alarm or prevent your detector from properly identifying the CO levels in your home:
-In close proximity to any fuel-burning appliance.
-In excessively humid areas such as your bathroom.
-In direct sunlight.
-Near any sources of blowing air such as a fan, vent or open window.