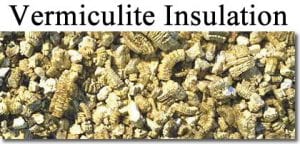 During a recent inspection, we found vermiculite insulation in the attic. This is typical in older homes but we thought we would write a post about it since there was evidence that the previous owners had been doing a lot of work in the attic installing can lights.
What is Vermiculite:
Vermiculite is a naturally-occurring mineral composed of shiny flakes, resembling mica. When heated to a high temperature, flakes of vermiculite expand as much as 8-30 times their original size. The expanded vermiculite is a light-weight, fire-resistant, and odorless material and has been used in numerous products, including insulation for attics and walls. Sizes of vermiculite products range from very fine particles to large (coarse) pieces nearly an inch long.
Concerns about Asbestos-contaminated Vermiculite Insulation:
A mine near Libby, Montana, was the source of over 70 percent of all vermiculite sold in the United States from 1919 to 1990. There was also a deposit of asbestos at that mine, so the vermiculite from Libby was contaminated with asbestos. Vermiculite from Libby was used in the majority of vermiculite insulation in the United States and was often sold under the brand name Zonolite. If you have vermiculite insulation in your home, you should assume this material may be contaminated with asbestos and be aware of steps you can take to protect yourself and your family from exposure to asbestos.
Risk of Exposure to Asbestos If You Have Vermiculite Insulation:
Asbestos causes cancer and other diseases. There is no known safe level of asbestos exposure. Asbestos fibers must be airborne to cause a health risk through inhalation, so the first step is not to disturb the material, which would release more fibers into the air. If you remove or disturb the insulation, it is probable that you may inhale some asbestos fibers – the degree of health risk depends on how much and how often this occurred. If you do not go into your attic, handle, or disturb the insulation, it is likely that you will not be exposed to asbestos fibers from vermiculite insulation.
The EPA Recommends That You:
-Leave vermiculite insulation undisturbed in your attic or in your walls.
-Do not store boxes or other items in your attic if it contains vermiculite insulation.
-Do not allow children to play in an attic with vermiculite insulation.
-Do not attempt to remove the insulation yourself.
-Hire a professional asbestos contractor if you plan to remodel or conduct renovations that would disturb the vermiculite in your attic or walls to make sure the material is safely handled and/or removed.